Airbag vests for horse riding offer in a single product the protection of various sensitive parts of the body, becoming more and more an essential element when it comes to taking care of the physical integrity of horse riding lovers. In our case, the Vimele VML01 model offers wraparound protection for the neck, full protection for the back including the coccyx, the hip and also the chest, which together with the use of the helmet provide almost comprehensive protection for the rider's vital areas. against possible accidents.
This protection gives us the possibility of enjoying horse riding in all its modalities, with an extra security that can make a difference in the event of an accidental fall, being able to avoid or minimize the possible injuries to which we will be exposed in the event of a fall from our mount.
Is it important that an airbag vest for horse riding is approved?
When choosing an airbag vest for horse riding With CE approval, you are not only acquiring one more inflatable device, but you are also acquiring the guarantee that the product will protect vital areas in the most efficient way, having taken into account in its development the height and weight of the riders, as well as each size is individually certified following the ergonomic criteria set out in the regulations, offering optimal coverage in the range of measurements indicated for each of the sizes, and for this reason Vimele provides a size guide to choose the correct size according to the height and weight of the rider or rider.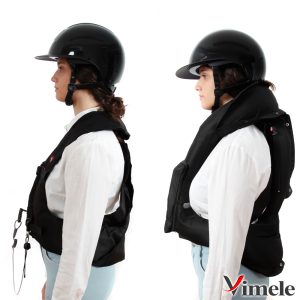 And not only is the optimization of coverage areas by size taken into account, but having the NF S72-800:2022 approval, the product covered by said standard has also taken into account the specific parameters for inflation, both the minimum time required to inflate the vest, and the optimal pressure required, which is why approved vests usually use higher CO2 charges to comply with the safety requirements set forth in the regulations.
Fortunately, the use of inflatable vests in horse riding is increasingly widespread, and a wide variety of them can be found on the market. However, a very high percentage of these products have not yet passed any official test. that guarantees the consumer that the product will perform according to expectations, so at Vimele, who are aware of the arduous and demanding process to obtain a CE certification, we recommend opting for an approved product with a CE certificate that certifies the reliability of the product. according to its intended use.
The Vimele model VML01 airbag vest was developed to reach the maximum number of users with a product capable of combining quality and safety, which was approved according to the most demanding standard for inflatable protectors for equestrian use, with a CE certificate protected by an organization competent and with the most competitive marketing price possible without sacrificing the quality of the product.