First Spanish brand to obtain CE approval for airbag riding vest
The Vimele VML01 equestrian airbag vest was created to help alleviate the reduced supply of airbag vests with CE approval in accordance with the NF S72-800:2022 standard, which guarantees compliance with the safety parameters required for this type of protectors.

FREE SHIPPING COSTS FROM 100€ (Iberian Peninsula)
PAYMENT BY INSTALMENTS IN 3 INTEREST-FREE INSTALMENTS FROM €50 UPWARDS
At Vimele we have airbag vests for horse riding, CE approved by ALIENOR CERTIFICATION in accordance with the NF S72-800:2022 standard for the safe practice of horse riding.
Developed specifically for horse riding, offering protection and quality at a reasonable price, making a CE certified airbag vest accessible to as many people as possible.
Available in 4 sizes, all individually certified (XS, S, M, L).
Warranty 2 years: The legal warranty of the VML01 west is 2 years.
Assembly in Spain of the VML01 Vest. We carry out the complete assembly of our vests in our own facilities. Each vest, once assembled, is subjected to extensive testing to ensure optimal performance.
Maintenance and repair of airbag vests for equestrian use.
Vimele offers its customers a maintenance and repair service in order to guarantee the correct functioning of its products throughout their useful life, as well as extending it as far as possible by being able to repair and replace any damaged element.
In order to guarantee the traceability of your product, all Vimele vests are individually identified by means of a batch number and a numerical series, which combined allows us to know to whom and when the unit in question was supplied and to know for certain at what stage of the guarantee it is at any given moment and the actions that may have been necessary for its maintenance.
Vimele was created with the aim of searching for and offering the market technical solutions to increase the safety and/or comfort of its customers while they practice horse riding.
The requirement to collaborate exclusively with experienced and reliable suppliers allows us to offer the market quality products that comply with current regulations.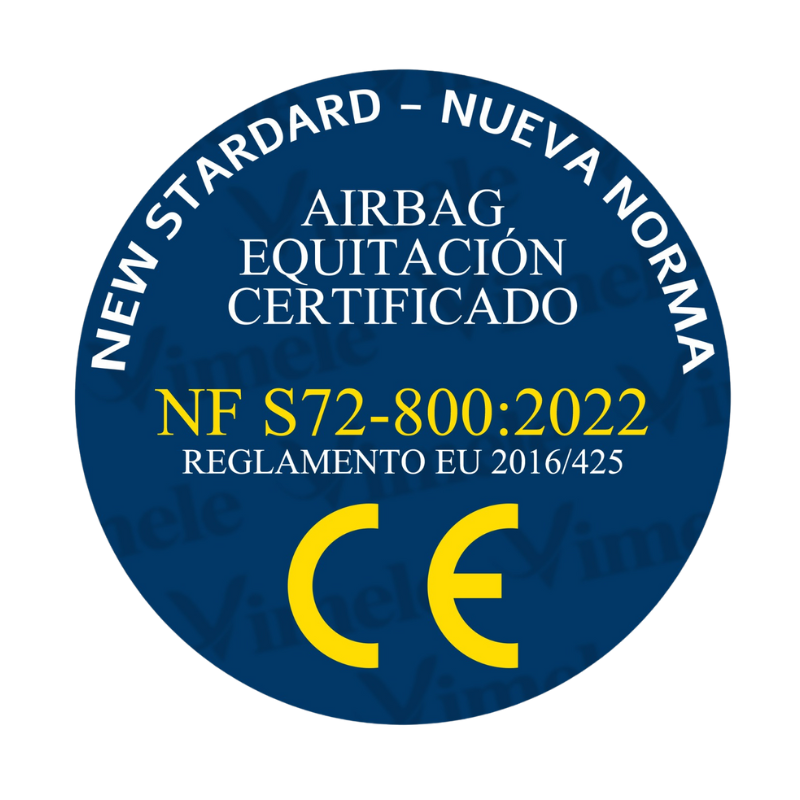 CO2 cartridge for equestrian airbag vests
What I should know before buying CO2 cartridges
At VIMELE you can buy CO2 cartridges for motorbike or equestrian airbags of 48 cc, 50 cc, 60 cc and 65 cc.
Select the cartridge with the desired capacity and depending on the quantity ordered the price will vary.
THE HIGHER THE QUANTITY THE LOWER THE PRICE PER CARTRIDGE
As an essential part of your airbag vest, co2 cartridges should be approved to ensure that they work properly when needed. This is why Vimele's CO2 cartridge supplier specialises in the production of pressurised gas equipment and strictly complies with all the relevant regulations in force.
Choosing uncertified products puts your own and/or your family's integrity at risk, as a deficiency in the condition of the cartridge will prevent the correct deployment of the airbag if necessary.
Also, co2 cartridges have an expiry date of 5 years from the date of manufacture. Reject any product that does not guarantee that it is within the optimum period of operation The date of filling and sealing of the cartridge must be engraved on it and gives us the necessary information to know for sure the useful life of the product.