Safety is an essential factor when practicing any activity or sport, sometimes not being taken into account until some mishap occurs that makes us understand the
need to protect ourselves or one of our loved ones while practising their favourite sport or activity.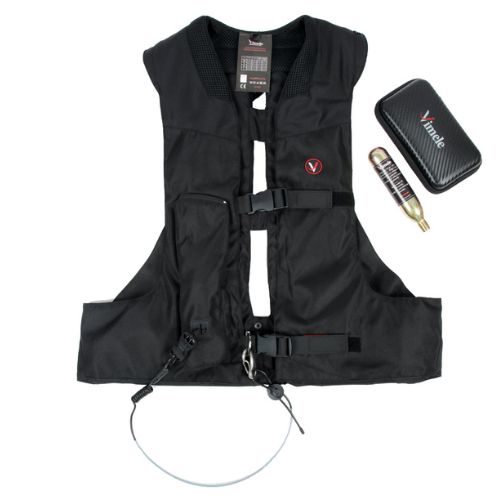 An airbag vest for horse riding is as important an element of protection as a riding helmet, providing protection to sensitive areas such as the back, chest or neck among others. The use of an airbag vest can prevent or minimise serious injuries, and is an essential element for safe riding. Its standardisation is one of Vimele's objectives, so that a quality vest, certified according to the most rigorous standard currently existing for this type of protectors, can reach the greatest number of users.
Fortunately, the use of an airbag protector is an increasingly widespread option among horse riding enthusiasts, as it provides an excellent level of protection for riders in the event of an unexpected fall, being possible to reuse it after a few simple steps of conditioning the airbag vest and replacing the CO2 bottle
Buy Riding Airbag Vests
The VML01 riding airbag waistcoat comes in 4 sizes, all of which are individually certified (XS-S-M-L), in order to cover as many users as possible.
We also have all the necessary accessories to keep the airbag waistcoat in perfect condition, and we also offer a technical service for the repair of the vest during the warranty period, or outside it if our customers need it.
At Vimele we believe that safety and quality should be within everyone's reach.