Airbag vests for horse riding have become an essential part of the protective equipment for riders. These safety devices require proper maintenance to ensure optimal operation and long-term durability.
At Vimele we want to give you information on how to maintain and care for your riding airbag vest, answering these frequently asked questions.
Can I wash my hipica airbag vest?
Yes. The VML01 vest is made of 2-layer 600D Oxford fabric, the inner layer of which is a waterproofing membrane that protects the inside of the product from rain and moisture.
The use of this type of fabric improves the durability of the product by protecting the internal inflatable bags, but also allows it to be cleaned safely by using a damp cloth or brush.
How to wash the Vimele airbag vest?
The most comfortable and effective way to proceed with cleaning is as follows: hang the vest on a hanger, unfold the bag that protects the coccyx (to also clean the inside of said bag that normally remains hidden when the pressure clips are closed ) and rub carefully using a soft bristle brush or a damp cloth. Once clean, let it dry on the hanger until the moisture in the clean areas has disappeared.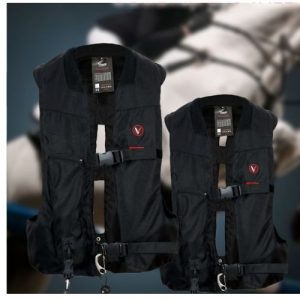 Do not use aggressive products or put the airbag vest in a washing machine or dryer, you could irreparably damage the product, and even if it were solved, the damage caused would not be covered by the product guarantee.
How do I store my airbag vest?
An airbag vest is a PPE that requires some care when storing it, which has internal components such as the inflation bags or the firing system that require delicate treatment.
The best way to store your airbag vest is to hang it on a hanger, just like you would with your favorite parka or coat, especially for long periods, avoiding keeping it folded for a long time and especially with weight on it.
To protect it from dust and light, we also recommend covering the vest with a textile cover and, of course, avoiding exposure to high temperatures or storing it near corrosive products.
Additional cleaning tips for your horse riding airbag vest
In addition to washing and proper storage, there are some additional tips that you can follow to keep your airbag vest in optimal condition:
Carry out periodic inspections of the vest to verify that all seams and snaps are in good condition, as well as that there is no visible wear or damage to the components of the vest. If you find any irregularities, contact us for assistance.
After long periods without use, we recommend activating the airbag vest before riding our horse, this is the best process to verify the correct operation of our airbag vest. Of course, and in order to promote the brand's security policy, we can make it easier for you to obtain test cartridges to minimize the cost of the test and not burden you.
Proper maintenance of your airbag vest for horse riding is essential to guarantee its performance and durability, it is a safety element designed to protect you in case of need, but whose maintenance and care can influence its correct functioning.
Follow the washing and storage instructions for your vest to always keep it in perfect conditions for use. If you have any questions about it, remember that we are at your disposal to assist you and help you care for your Vimele vest.